Questions? Call us! 1-800-645-3226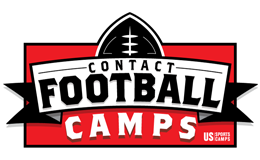 Nike Contact Football Camp California Lutheran University
Nike Contact Football Camp California Lutheran University
19

Reviews
Average Rating
Stars
Improve your game and have serious fun
at Nike Contact Football Camps
This camp will not run in 2022. Check out the Nike Contact Football Camp at Whittier College!
Under the direction of Head Coach Mike Neal of Whittier College, the Nike Contact Football Camp at Cal Lutheran University is a premier location. The great weather, coaching, and excellent facilities make this camp a favorite for many young athletes. Throughout this football camp, campers work on both offensive and defensive positions with the goal of taking their game to the next level.

Highlights Include
All Campers Receive Nike Football Camp T-shirt, Water Bottle, Gym Sack, Player Card, Lanyard
Instruction from Whittier College Football Coaching Staff and Players
Grouping by Age, Weight, and Ability
Contact Drills and Scrimmages
Daily Training to Develop Speed, Strength and Agility
Equipment Rental Available
Camp Coaches
Camp Director

Mike Neale

Neale was Albright's longest-tenured assistant coach and was with head coach John Marzka for all eight of his seasons on the Lion sideline. Albright won the MAC title this season and advanced to the NCAA playoffs. The Lions defeated Norwich 49-0 in their first-ever home NCAA playoff game and then lost to Mount Union in the second round of the playoffs. Neale had six of his defensive players earn all-conference honors that season, and the Lions defense led the nation in defensive touchdowns with six.

View Mike's Bio

⟩
Camp Details
Nike Contact Football Camps feature full contact drills and scrimmages with a staff of major college coaches and players. At camp, "contact" is introduced in a slow, gradual progression before any actual "contact" is initiated. Campers are divided according to age, weight, and ability.

The instruction stresses both individual positions and team play with every camper. Thousands of our previous football campers played, or are now playing college football (many at schools represented by our coaching staff).
Please note: The following information may be subject to change.
LOCATION
California Lutheran University: 60 West Olsen Road. Thousand Oaks, CA 91360
CAMP AGES
8-16
CAMP DATES
Will not run in 2022
CAMP TIMES
9:00am-5:00pm

Show Less

See More

Camp Details
INCLUDED IN THE FEE

Daily Football Instruction Daily
Day Campers: Lunch is Provided.
All Campers Receive Nike Football Camp T-shirt, Water Bottle, Gym Sack, Player Card, Lanyard
INSTRUCTION
Low Camper to Coach Ratio
Players Grouped by: Age and Ability
EQUIPMENT
Equipment Needed: Campers need a full set of football equipment - helmet, shoulder pads, two jerseys (one light/one dark), pants and pads, football shoes (NO metal-tip cleats), athletic supporter, cup and mouthpiece.
RENTAL EQUIPMENT
Campers need a full set of football equipment - helmet, shoulder pads, two jerseys (one light/one dark), pants and pads, football shoes (NO metal-tip cleats), athletic supporter, cup and mouthpiece. For campers without equipment, Nike Contact Football Camp has equipment for rent prior to camp at $150 per set (helmet, shoulder pads, pants and pads) and $175 per set if rented on the first day of camp. Individual pieces of equipment are available at $75 per item.
FACILITY
Outdoor Fields
MEDICAL PROTOCOL
Nike Contact Football Camp will have an athletic trainer on-site to help with illness or injury. In case of an emergency, campers will be transported to the nearest hospital.
TRAVEL
Nike Contact Football Camps does not provide transportation from airports, train stations or bus depots. If you have a child flying to camp, please arrange a shuttle or taxi service.
TEAM/LEAGUE DISCOUNT
If you have a group of campers registering for the same camp, each camper is eligible for a discount. Please have someone contact the US Sports Camps office at 1-800-645-3226 with the names of each camper in the group and we will create a unique discount code for your group. Campers may then register individually through the website at their convenience and apply the offer code during check out. *Discount amount varies by program. Please call for details.
INFORMATION PACKET
A detailed camper information packet containing check-in location, links to health/release forms, emergency contact info, and a list of items to bring will be emailed to all registered campers prior to camp start date. Our health and release forms may require a doctor's signature (please reference your camp packet). Additional forms may be required and will be collected on the first day of camp.
COVID-19 SAFETY & REGULATIONS
For more information on our Covid-19 safety procedures and regulations, please visit https://www.ussportscamps.com/covid-safety
Sample Daily Schedule
8:45am Day 1

Intro/Rules/Orientation

9:00am

Agility Training

10:00am

Practice

11:30am

Head to Lunch

1:00pm

Practice

2:00pm

Scrimmaging

5:00pm

Campers Depart
Located between Los Angeles and Santa Barbara, Cal Lutheran's main 225-acre Thousand Oaks campus is complemented by two satellite locations in nearby Woodland Hills and Oxnard. Together, they are home to a dynamic liberal arts and science programs, with more than 2,700 undergraduate and 1,400 graduate students.
Campers will train at the William Rolland Stadium, the newest addition to the athletics complex on north campus. The two-story stadium, completed in fall 2011, has 2,000 fixed seats, an artificial turf field and outdoor sports lighting for football, soccer and intramural matches.
Overall Average Rating
Stars
Coaching Staff is Great

July 26, 2019: Coach Timo and staff are awesome with the kids. My son learns something new at every camp he coaches.

— Boyd C. Parent

Returning Next Year

July 26, 2019: Phillip enjoyed the football techniques he learned. Left the camp wanting to return for next year! Great experience for a first time full contact experience. Thank you.

— Alberto O. Parent

This camp is awesome!

July 23, 2018: Learning new techniques to use in my football career.

— Rich S. Parent
Show Less

See more

Reviews
College experience!

July 23, 2018: Having a roommate and staying in the dorms!

— Mike B. Parent

Thank you

August 2, 2017: My 8yr old son lives for football in the off season we practice around 4 time's a week he can't get enough of the game and it was really nice for him to be around other kids with the same interests they inspired each other it was amazing he will be there next year. To the staff I want to say thank you

— David M. Parent

Loved the focus on each player

July 31, 2017: I loved the constant focus on each player, curriculum was focused on technique, which improved my son's skills, and each player was allotted more reps for each drill which provided each player with more practice.

— Beverly F. Parent

One on one coaching

July 31, 2017: Interactive one on one coaching from next level staff.

— Justin P. Parent

Very fun

July 31, 2017: It was very fun and I learned a lot of technique from all the coaches.

— Maria B. Parent

New skill set

July 31, 2017: My son was excited to learn a new skill set and different techniques to further his high school football career. He achieved just that.

— Amber B. Parent

Glimpse of college life

July 31, 2017: My son learned new things and had a good time. Gave him a glimpse of college life.

— Gabrielle T. Parent

My sons plan to return next year!

"My sons have now been to all the contact camp locations in California! They really enjoyed the staff at this camp and plan to return next year."

— Parent

I learned so much

"I had a great time! I played the offensive and defensive positions that I wanted. Thank you! The coaches seemed tough at first, but in the end I learned so much. I really appreciate the time the coaches spent with me! I met new friends who will be coming back next year and so will I."

— Overnight Camper

After this camp I can't wait for football season to start!

"This was my first overnight camp and I could not stop talking about it when I returned home. My love for the game was only reinforced when I had the opportunity to attend this camp. I felt that my skill level was increased and cannot wait until the football season starts to show others what I learned and also what they could learn by attending this wonderful camp. I look forward to next season."

— Overnight Camper

Coaches and Counselors were fantastic role models.

"We were so impressed with the professionalism, dedication and organization of the camp. The coaches and counselors were fantastic role models for our son. We were more than impressed! Thanks!"

— Parent

Campers and Counselors were very accommodating to all!

"My son was the youngest camper at the Contact Football. Initially I was nervous about him participating, but the camp counselors made sure he was in a group with kids around his same size. He was easily immersed into the games/drills by all. The kids were great and he had a wonderful time. We will be sending him again next year."

— Parent

Outstanding Camp, Fantastic Coaches

"Football camp was outstanding! Coaches were superb. A sports camp, especially football, could NOT have been better!!"

— Day Camper

Invaluable experience

The teachings and experiences that my son had while at the camp have been invaluable not only to his physical and skills development in football, but his character in life. Coach Timo and his staff were extraordinary and exemplify what every Coach, no matter the sport, should strive to emulate.

— Parent

Great introduction

A very good introduction for an 8th grader who had never put on pads before.

— Parent

Great enviroment

My son enjoyed the camp, he is looking forward too next year thank you so much great environment

— Parent
Camp Dates & Prices
New Camp Dates Coming Soon!
Please join the Priority List to be notified when this program opens for 2023 registrations.