Lacrosse Tip
Presented by Stacey Freda, Camp Director
Nike Girls Lacrosse Camp Lexington, MA
Nike Lacrosse Tip: 3 Tips To Improve Your Shooting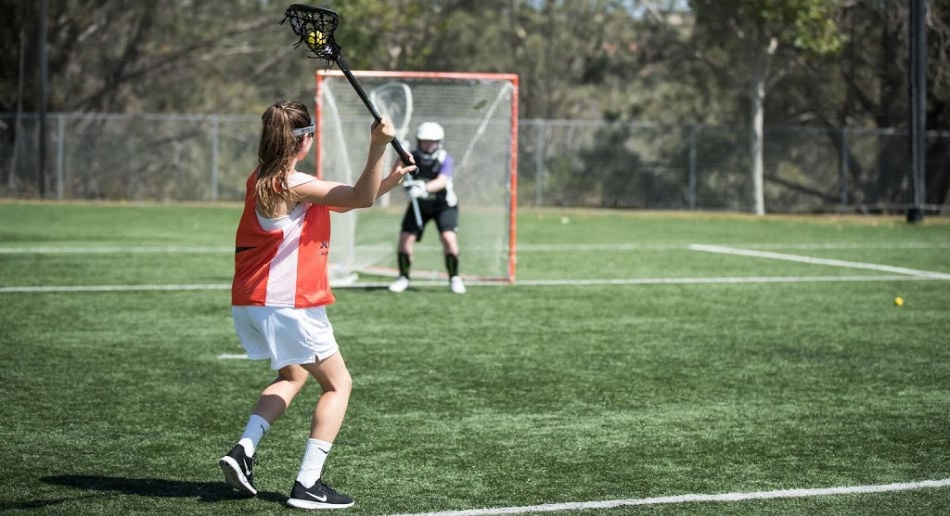 1) Changing Levels on Fakes
Visualize the cage divided up into 3 levels, high, middle and low. In order to move the goalie opposite of where you want to shoot, you must fake in a level different than where you would like to finish your shot. An example of this would be faking high and shooting low or faking to your off side high and placing it stick side middle.
2) Follow Through Towards the Target
When driving to cage, it is important to have your hips faced towards the goal and continue your drive to the cage as opposed to fading towards the outside of the 8m. When you release your shot, your stick head should finish in the same place you want the shot to end up. In order to do this follow through with your top hand.
3) Varying Your Shots
To be a successful attacker who is hard to stop, it is important to have a variety of shots you are able to execute. This can range from power shots, to finesse, risers to bounce-shots, and top corners to the goalies off-side hip. It is much harder to stop a save from an attacker when the defense and goal keeper do not know where her shot is going.

Long time Nike Lacrosse Camp Director Stacey Freda, Lexington High School's Head Lacrosse Coach. Freda was recently inducted into the Eastern Massachusetts Chapter of the US Lacrosse Hall of Fame. Coach Freda is entering her 24th season coaching girls' and women's lacrosse. As head coach over the past 23 years, Coach Freda has successfully guided her Billerica High School, Framingham High School and Lexington High School teams to post-season appearances in each year. Her teams have enjoyed 8 League Championships, 7 Division 1 North Section Championships and 3 Massachusetts Division 1 State Titles (2006, 2007 and 2010).
Check out more lacrosse training tips to help take your game to the next level!
Share This