Lacrosse Tip
Presented by Brian Lalley, Camp Director
Xcelerate Nike Boys Lacrosse PRE-SEASON Skills Clinic in Cleveland
Xcelerate Nike Lacrosse Tip: Ground Balls For Short Sticks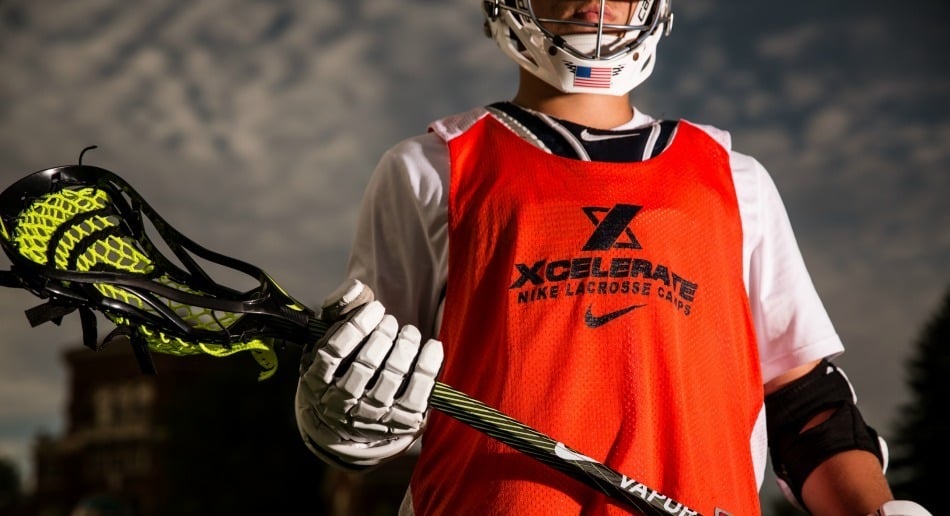 Xcelerate Nike Lacrosse National Program Director, Brian Lalley, goes through the keys of properly scooping a ground ball:
All coaches stress the importance of being able to scoop a ground ball. The ball happens to end up on the ground quite a bit in a lacrosse game, so being able to scoop a ball that could be either team's possession gives your team more opportunities. It is also a great point to rally around as every member of the team can scoop a ground ball, no matter what their position is. We will focus on how short sticks pick up a ground ball.
TECHNIQUE
Using proper mechanics to give yourself the best chance to pick up the ball is crucial.
1). Hand Placement & Body Position
It is very important that we protect our stick as much as possible while trying to scoop through the ball. As a short stick player, our top hand should be just below the head of the stick and our bottom hand at the butt-end. This will allow us to support the head of the stick where we are scooping the ball and give us more strength to absorb a check. Body position is also a core component to being efficient at scooping ground balls. We always want to position our body between the ball and pressure to protect the ball as we scoop it. The scoop of our stick is built to scoop straight so it is very important to get down low, which also positions our body over the ball for protection.
2). Speed
The slower we run through a ground ball, the easier it is for pursuing defenders to check us. Even if we don't get the ball while running through it, most of the time the ball will project towards the space we were running to. Avoiding slowing down or raking the ball will give us a much higher possibility of success. At Xcelerate we say, "Raking is for the leaves, not the GB's!!!"
3). Goose / Hockey / Soccer
There will be plenty of times where no matter what you do, you're going to take some contact (body, stick check or both). Using your lacrosse stick or foot to re-direct the ball to space where you can re-position your body between the ball and pressure is a great way to secure possession under pressure.
4). Get to Space
Once we've scooped the ball we want to make sure we get it protected as soon as possible. At Xcelerate we like to say, "Kiss it and listen to it." Getting the head of our stick up by our helmet puts defenders in a very tough spot trying to check the ball out. Once we've secured and protected the ball, it is very important to not try to be a decision maker right away. Our first job is to get to space and secure the possession for our team. Wherever space is, sprint there with your head up and make a decision. Generally, ground balls lead to an un-settled, odd-man opportunity, so moving it quickly to a teammate can lead to a scoring chance.
For more lacrosse tips and instruction like this from our Xcelerate coaching staff join us this summer at a Xcelerate Nike Lacrosse Camp.
Share This