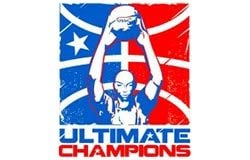 Nike Basketball Camp Gonzales Middle School
Improve your game and have serious fun
at Nike Basketball Camps
Join Ultimate Champions Basketball Academy Founder, TJ Jones, and staff in summer 2023 in Gonzales, LA. Learn what it takes to make the team in this popular day clinic and leave with more confidence in your game and a step up from the competition!
The Making the Team Camp help players of all abilities looking to make their school or club team. Campers will develop athletically, refine fundamental skills, and enhance their abilities at the post, wing, or guard position.

Highlights Include
In-depth analysis of each player's conditioning and footwork
Discussion of nutritional goals and off-court activities to benefit on-court game
Low camper to coach ratio to offer the most personalized instruction in a small group setting
Camp Coaches
Camp Director

TJ Jones

TJ Jones is the founder and lead skills director of Ultimate Champions Basketball Academy and is a National Nike Basketball Camp Director. Coach Jones has over 22 years of basketball experience as a player, coach and player development instructor.

View TJ's Bio & Basketball Tips

⟩

Staff

Ultimate Champions Basketball Academy

With over 22 years of training and coaching experience that covers all age groups and skills levels, Ultimate Champions has become one of the nation's premier basketball training academies.

View Ultimate Champions Basketball Academy's Bio

⟩
Camp Details
JOIN THE 2024 PRIORITY REGISTRATION LIST!
Dates and details will be added to this page as soon as they are confirmed. Make sure your child is first in line to register after the new year by joining the Priority Registration List at no cost! Priority List members will be the first to know when our 2024 summer camp registration officially opens!

For details on all 2023 Nike Basketball Camps, please visit Nike Basketball Camps.
2024 DATES COMING SOON!

Check-in: Monday at 8:30AM
Closing Ceremony: Friday at 11:30AM
Meals: Lunch is not provided.
Hours: MON-THURS 9AM-4PM FRI 9AM-12PM

ONLY AVAILABLE ON FRIDAY? Put your shooting skills to the test and join us only on Friday, from 1pm-4pm, for the Shooting Clinic! Click the 'See More Camp Details' button below for details.

Show Less

See More

Camp Details
ULTIMATE CHAMPIONS PHILOSOPHY

In order to be successful there has to be a strong foundation. If a builder is building a house, he must have a strong foundation in order for the house to stand properly over time. Well, the same is for basketball. There must be a strong foundation in fundamentals for continuous individual improvement. In addition to an emphasis on skill development, camp will also aim to improve each players athleticism and explosiveness.

FRIDAY ONLY SHOOTING CLINIC (NEW!)
In the Friday Shooting Clinic campers will cover shooting psychology, the three phases of shooting, and shooting off the dribble and catch! The clinic will run on Friday after the Complete Skills camp ends, from 1pm-4pm, for $45.
POST-CAMP PERSONALIZED SKILLS ACADEMY (NEW!)
In Post-Camp Training Personalized Training, Ultimate Champions will be offering skill-specific training catered to the need of each player. The focus is to find out the challenge area of each player and spend the entire session working to improve the challenge areas. It will run Monday-Thursday, from 4pm-5pm, and be $40 (for all 4 days).
MAKING THE TEAM
In the series Coach TJ will give the tips that will give any player the advantage in making anyones team! Coach TJ has put his 20+ years of experience as a college coach and professional basketball players, coupled with speaking to over 125 coaches across the country to work and created a system, if executed, would give any player the advantage in try-outs. Here are a list of skills that will be taught:

Tangibles:
- Team Skills
o Man to Man Defense
o Zone Defense
o Team Drills
o Man to Man Offense
o Zone Offense
o Ball Screens
o How To Get Open Without The Ball
o How To Get Your Teammates Open
- Individual Skills
o Ball handling
o Shooting
o Passing
o One on One Moves
o One on One Defense
- Conditioning
o Plyometric Work
o Flexibility Training
o Body weight training
o Endurance Training
Intangibles:
o Mental Toughness
o How to play for any coach
o Finding out what your coach wants
o How to be a leader in try-outs
o How to win your coach over in try-outs
o How to out-work everyone in try-outs
BASKETBALLS
Nike Versa Tack Basketballs can be purchased during registration for $25. Players can choose between a size 6 (28.5", standard girls) or size 7 (29.5", standard boys) ball, which will be passed out on the last day of camp. Please note that it is not required to bring a basketball to camp as they are provided by the staff for camp instruction. *Sales will stop on April 1st.
CAMPER EVALUATION

Upon arrival, all participants are evaluated by the staff so that their own instructional needs can be addressed throughout the week. In addition, campers will be evaluated and then split up into smaller groups according to age and ability.
HEALTH & RELEASE FORMS
All registered campers are required to have a parent or legal guardian fill out US Sports Camps' mandatory Health & Release Forms online before arrival at camp. This camp does NOT require a doctor's signature on the forms.
INFORMATION PACKET
A detailed Information Packet containing check-in location and address, on-site staff contact information, a checklist of things to bring, site-specific forms, and more will be emailed to all registered campers prior to camp. To check if your Information Packet is ready, click here.
PEACE OF MIND POLICY
At US Sports Camps, we hope you will not have to cancel your enrollment in camp. If you do though, there are options. For details on our Cancellation Policy, including cancellations of camp by US Sports Camps, please visit: www.ussportscamps.com/peace-of-mind-policy
TRANSPORTATION
Transportation is not provided by the camp to or from any airports. If you are flying to or from camp, we recommend using an airport shuttle service. Please schedule flights as close as you can to the check-in times on the first day and check-out times on the last day.
SCHOLARSHIPS
We cannot offer scholarships due to NCAA regulations. Our affiliation with NCAA coaches and schools puts us in a position where any scholarship money can be seen as an inducement to a future collegiate athlete. This puts our coaches and our host universities in jeopardy of damaging their status with the NCAA and incurring penalties at the hands of their organizing body.
NIKE BASKETBALL CAMP FAQ
For general questions about our basketball camps please see our FAQ page.
*Please note, this information is subject to change.
Sample Daily Schedule
9:00 AM

Stretching

9:15 AM

Ball-Handling

9:45 AM

One on One Moves

10:30 AM

Defensive Work (stance, movement, communication, desire)

11:00 AM

Shooting Work (foot alignment, shoulder alignment, balance, selection, technique)

11:30 AM

3 on 3, 4 on 4, 5 on 5

12:00 PM

Lunch

1:15 PM

Stretching/Warm-Up

1:30 PM

Ball-Handling

2:00 PM

Passing

2:30 PM

Guest Speaker/lecture

3:00 PM

Offensive & Defensive Fundamentals

3:20 PM

Shooting Skills Competition

4:00 PM

Dismissal
Camp Dates & Prices
New Camp Dates Coming Soon!
Please join the Priority List to be notified when this program opens for 2023 registrations.