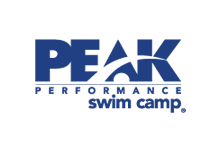 Nike Peak Performance Fall Swim Camp In November Orlando, FL
Offering a fresh perspective
on competitive swimming!
Peak Performance Swim Camp is offering two day technique camps for competitive swimmers in Orlando, Florida, this Fall! Our 4-STROKE CAMP provides two levels of specialized training for 12 & Over and 11 & Under athletes. Improve your stroke technique to swim faster and more efficiently!
PEAK coaches are masters at Olympic training, and our low swimmer-to-coach ratio is the best in the industry. If speed is what you seek, come to PEAK! Open to age group and senior-level swimmers, ages 8-18, who currently compete at a local, regional, state, or national level. To maximize the benefits of the clinic, swimmers are assigned to lanes based on their current skill and performance level versus age.
Camp Coaches
Camp Director

Nick Baker

Nick Baker cofounded the original Peak Performance Swim Camp in 1996. In 2005 he branched out on his own and founded the present-day version. His vision was to create a holistic camp with a focus on developing the whole swimmer from a mental, technical, and physical perspective.

View Nick Baker's Bio & Swim Tips

⟩

Coach

Peak Coaching Staff

A great camp curriculum means nothing unless you have a team of great coaches to implement it. Our passionate and experienced coaching team is comprised of stroke technicians, teachers, and motivators

View Peak Coaching Staff's Bio

⟩
Camp Details
Maximizing swimming potential through a holistic training approach is the mission of Peak Performance Swim Camp. To fulfill our mission, we seek to empower our swimmers through a two-tiered process of teaching and training. The teaching side includes daily chalk talks, video presentations, and ongoing poolside demonstrations. In addition, a targeted teaching strategy focused on swimmers' individual needs is employed.
2023 OVERVIEW
Dates: November 4-5
Age Group: 8-18
Gender: Coed
Camp Type: Day Camp

Schedule: 9:00am-3:00pm, Saturday-Sunday
Check-In: 8:45am on the pool deck. Camp check-in and Orientation for both swimmers and parents will take place at the Rosen Aquatic & Fitness Center. Please park and enter the facility via the front main entrance.
Lunch: Lunch is not provided. Please bring a packed lunch.

4 Stroke Camp: For competitive swimmers ages 8-18. Our two day, 4-Stroke Camp provides concentrated work in all four competitive strokes and offers quick-fix solutions that work. Areas of concentration include body position, pulling, kicking, breathing, and timing. It's the complete package over one weekend!
There's a fundamental difference in how swimmers should train the long axis versus short axis strokes. Long axis strokes, backstroke and freestyle, involve side-to-side body rotation. Short axis strokes, butterfly and breaststroke, involve front-to-back rotation. Physical fitness can only take swimmers so far, but fitness plus the right technique can turbocharge their performance. PEAK coaches are masters at teaching and training, and our 1-on-1 attention provided to each swimmer sets PEAK apart from the rest. Learn from the PEAK pros and get the winning edge!
Note: This is NOT a learn-to-swim program, but specifically designed for competitive swimmers who can perform multiple lengths of all four strokes and the official starts and turns. Swimmers at camp are assigned to lanes based on ability level. The daily skill progressions and challenging swim sets are adjusted to reflect skill and performance levels.

CAMP ADDRESS
Rosen Aquatic & Fitness Center
8422 International Drive
Orlando FL 32819
Click Here for Directions
CAMP CHECK-IN
Saturday, November 4th and Sunday, November 5th
Camp check-in and Orientation for both swimmers and parents will take place at the Rosen Aquatic & Fitness Center. Please park and enter the facility via the front main entrance.
Swimmers must arrive at camp wearing their swimsuit underneath their dry-land clothing.
Parents need to sign in their swimmer with camp staff each morning.
There is limited space for spectators to observe the pool sessions on the pool bleachers.
CAMP CHECK-OUT
Saturday, November 4th and Sunday, November 5th
Pick-up and Sign-out will occur on the pool deck at 3:00pm. Enter the pool via the back entrance near the circle drive.
Parents must sign out their swimmer each afternoon with a PEAK staff member.
CAMP FINALE
The camp concludes on Sunday, November 5, at 3:00 pm. Parents can pick up their children on the pool deck.
MEALS
Please bring your own bag lunch daily on Saturday and Sunday with your favorite healthy foods.
Bag lunches must be in the swimmers' possession at morning Drop-Off and not delivered later to the pool.
Swimmers must bring two personal water bottles to camp, properly labeled and already filled.
WHAT'S INCLUDED IN THE FEE?
Instruction: Morning and afternoon training sessions
Supervision: Campers are supervised by staff during camp hours.
Camp T-shirt & Prizes: Campers will receive a Peak Swim Camps t-shirt and prizes.
INSTRUCTION, EQUIPMENT & FACILITY
Ratio: 1:10 staff-to-camper ratio
Groupings: Campers are grouped by age, ability, and experience.
Equipment Needed: Please bring your water swimsuit, swim cap, googles and towel(s)
Facility: Rosen Aquatic & Fitness Center.
Medical Protocol: Most camps have an athletic trainer on-site to help with illness or injury. In case of an emergency, campers will be transported to the nearest hospital.
PREPARE FOR CAMP: COMPLETE YOUR PRE-CAMP CHECKLIST

To view your customer account, complete your mandatory forms, pay balance dues, and review important camp information, visit Pre-Camp Checklist. All necessary camp information is on this page. If there are any imperative changes prior to camp start, registered campers will be notified via email and this webpage will be updated!

CHECKLIST OF THINGS TO BRING
Below is a suggested list of clothes, equipment, and personal items. US Sports Camps is NOT responsible for lost or stolen articles or money.

Items:

2 Water Bottles - Properly labeled & already filled
Bag Lunch with your favorite healthy foods
Swimsuit worn underneath dry-land clothing
2 Swim Caps (your personal favorites)
Googles
2 Large Pool Towels
Closed-Toe Running Shoes for dry-land training
Dry-Land Apparel: T-Shirts, Shorts, or Leggings
Do NOT bring fins, pull-buoys, kickboards, etc.
TRANSPORTATION
Transportation is not provided. Campers are responsible for getting to and from camp on their own. There is no supervision before or after camp hours so please make arrangements to pick up your child on time.
COMPANY POLICIES
For information regarding our cancellation policy and all other company policies, please visit USSC Policies.
NIKE SWIM CAMP FAQ
For general questions about our swim camps please see our FAQ page.
Show Less

See More

Camp Details
CAMP EXTRAS


COACH BAKER'S INSTRUCTIONAL VIDEOS:
Olympic Coach Nick Baker has created an outstanding video series for swimmers looking to improve their technical and physical performance. There's no better teaching tool than visual aides to effectively demonstrate and practice these skills!
Yoga for Peak Performance: The more flexible the swimmer, the greater the speed! And yoga is the perfect way for swimmers to increase their flexibility. Greater flexibility in the shoulders, chest, hips, and ankles allows the body to generate more propulsion and flow through the water with minimal drag and greater ease. The Yoga For Peak Performance video, led by professional instructors Theresa and Calvin of College Park Yoga, offers a series of effective yoga postures designed to relax the body and enhance flexibility in as little as 15 minutes a day! Price: $65.00
PEAK OUT! Dry-Land Video: Swimming alone cannot develop the strength, flexibility, agility, or coordination needed to perform at the elite-level. The PEAK OUT! Dry-Land Training Video targets these all-important physical traits – giving swimmers a clear, competitive edge. The five, high-energy training circuits demonstrated in the video can be performed away from the pool and require no equipment. It's the perfect fit for motivated swimmers on the move! Format: Stream video online. 82 minutes. Price: $85.00
PEAK Refresher 2.0: The PEAK Refresher 2.0 video, produced by Olympic Coach Nick Baker, builds on the fundamentals of Refresher 1.0 and introduces many elite-level skills not available on other swimming videos. The multiple and innovative camera angles take learning to a whole new level. The skills presented in this video are guaranteed to boost swimming performance! Format: Stream video online. 59 minutes. Price: $115.00
PEAK Refresher 1.0: The PEAK Refresher 1.0 is a state-of-the-art video also produced by 1992 Olympic Coach Nick Baker. It vividly illustrates key elements of the front, back, and relay start, along with the four strokes and turns. The step-by-step format greatly enhances learning. Format: Stream video online. 44 minutes.
PEAK Refresher Combo Package: Purchase the PEAK Refresher 2.0 video AND receive the PEAK Refresher 1.0 at half price ($75 value)! The PEAK Refresher 2.0 builds on the fundamentals of Refresher 1.0, providing comprehensive technical instruction for novice to elite-level competitive swimmers. Price: $150.00
The Ultimate PEAK Package: Purchase all 3 videos–PEAK OUT! Dry-Land Video, PEAK Refresher 2.0 video, and PEAK Refresher 1.0–at an incredible value! PLUS receive a free copy of Coach Nick Baker's newest book, Un-Limit Yourself! A Must-Read for Serious Swimmers. The Ultimate PEAK Package provides an unparalleled, visual training experience combining the best of in-water technique skills, dry-land strength drills, and tips for a positive mindset. Price: $225.00
Private Coaching:
There are a very limited number of private coaching sessions available during the weekend camp. These are offered first-come, first-serve. If you are interested in making a reservation, please email us at [email protected]. Hourly private coaching sessions with Head Coach Nick Baker are $300.00. Private sessions with our Senior Coaches are $250.00.

COACH BAKER'S BOOKS:

Nick Baker, Founder of Peak Performance Swim Camp and Olympic Coach, provides unparalleled swim knowledge described in each of his books. With over 43 years of coaching experience with thousands of competitive swimmers from novice level to Olympic champions, Coach Baker addresses all-important topics ranging from the power of positive mentality and superior technique to building confidence and ideal strength and flexibility. Coach Baker's books are perfect gifts to inspire and teach swimmers, coaches, and parents alike!
MIND BODY SKILL, A Journey to Swimming Excellence: Olympic Coach Nick Baker has just released his sixth book – the newest addition in his Swimmer Series collection – titled Mind Body Skill, A Journey to Swimming Excellence. Coach Baker challenges swimmers to create change in a BIG WAY to achieve the results they desire! A swimmer who improves their mental outlook can enhance their level of swimming performance to one degree or another. The same holds true for technique and fitness. But when a swimmer focuses on boosting all three at once, the paradigm shifts and EXCELLENCE happens! Coach Baker states, "To thrive and survive in the demanding sport of swimming, a swimmer must become the 'driver of their dream' and push for exponential growth no matter what the circumstances!" Price: $20.00

SWIMMER SERIES COLLECTION: You can purchase all four books in the series. The 4 books: MIND BODY SKILL, ARE YOU WORTH IT?, UN-LIMIT YOURSELF! & 101 WINNING WAYS Price: $50.00
ARE YOU WORTH IT? 45 Ways To Enhance Your Self-Worth In Swimming: Olympic Coach Nick Baker has added another gem to his motivational Swimmers' Series. Among all the factors that determine successfully reaching your swimming goals, self-worth is the single most influential. You must first feel important before you can achieve important things in your swimming life. This superb book teaches how to build that feeling and find the inner "magic" that lies within you. Paperback: 132 pages. Price: $20.00
UN-LIMIT YOURSELF! A Must-Read for Serious Swimmers: NEW! The latest book by Olympic Coach Nick Baker is dedicated to serious swimmers striving for peak performance. This tremendous how-to pocket guide identifies 17 limiting factors that handicap swimming performance and how to overcome them. If identified early, these factors are within the swimmer's power to change! Paperback. 52 pages. Price: $15.00
THE SWIMMING TRIANGLE: Coach Nick Baker's most popular book is an innovative and essential guide to achieving superior mental, technical, and physical fitness in one of the world's greatest sports. Whether you're a coach or a swimmer, 1992 Olympic Coach Nick Baker's wholly integrated approach can help you maximize your true potential. In this book Coach Baker offers proven, results-oriented methods for gaining—and keeping—a competitive edge! Paperback. 326 pages. Price: $25.00
101 WINNING WAYS: Written by Olympic Coach Nick Baker, this motivational book identifies 101 winning attitudes common to all great, world-class swimmers. Each winning attitude is described with an easy-to-remember phrase and simple imagery to enhance visualization. It's a must-read for swimmers of all ages! Price: $15.00
IN THE KNOW: A SWIM PARENT'S GUIDE: Olympic Coach Nick Baker shares pearls of wisdom gleaned from coaching for more than forty years and provides parents with essential inside swimming knowledge geared to maximizing their child's swimming experience. Coach Baker sheds light on many unanswered questions parents have about swimming, and guides them in making the right decisions for their child. Paperback. 124 pages. Price: $20.00
Camp Schedule
The schedule below outlines a sample agenda for the day.
8:45 AM – Daily Sign-In
9:00 AM – Dry Land
10:00 AM – Pool Session 1
12:00 PM – Lunch (Bring Your Own)
12:30 PM – Mind Power Workshop
1:00 PM – Pool Session 2
3:00 PM – Daily Sign Out
The daily curriculum includes two in-water training sessions (2 hours each), dry-land, and motivational mental skills training. The combined PEAK experience toughens swimmers mentally, boosts fitness and confidence, and improves essential swimming skills.

Rosen Aquatic & Fitness Center
Campers train each day at the Rosen Aquatic & Fitness Center located at 8422 International Drive, Orlando, FL 32819.

Camp Questions & Answers
Where can I fine the Peak Health & Release Forms?
In order for a swimmer to participate in the camp, the mandatory Health & Release Form must be completed, signed, and turned in BEFORE the camp commences. The Health & Release Form can be found at - swimcamp.com/forms/.
How are swimmers grouped at camp?
Lane assignments will be based on your best 100 Free time. We will ask you to email us your best 100 Free time when we send out the registration packet before camp. If you do not submit the correct time, then there is a strong chance that you will be placed in the wrong lane, and will not fully benefit from the clinic training. Thank you for your assistance!
Show Less

See More

Questions & Answers
SECURE YOUR SPOT – CAMPS SELL OUT!
Last year over 650 Sports Camps sold out, leaving 7,000+ campers on the waitlist. Due to high demand, early registration for our first-come-first-serve camps is strongly recommended.
Camp Dates & Prices
New Camp Dates Coming Soon!
Please join the Priority List to be notified when this program opens for 2023 registrations.